Posted by Duncan at JD2456159.24452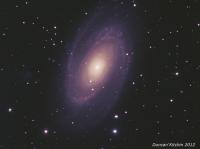 First process of data captured Wednesday and Thursday night at Oregon Star Party, using my new telescope, a Celestron EdgeHD 11 with a .7x focal reducer. I captured the luminance data on the first night, starting at about 3am, and then the RGB data from about 3am on Thursday night. Thursday had looked like it might be a washout due to smoke from forest fires that at one point completely obscured the sky, but it finally blew away around 2am and stayed clear all the way to dawn.

Resolution is very much seeing limited here; at a focal length of 1960mm I have a pixel scale of just over 0.5 arcseconds per pixel, and the target was still quite low in the sky.
Galaxies